New! All-Terrain Field Pant
OVERVIEW:
From our unique 100% cotton All-Terrain canvas to our innovative comfort features – to functional details you've never seen before, our all-new All-Terrain Field Pant will out-perform all the rest: on the trail, in the field, or back in camp.
With our design philosophy of "function, not fashion", we always strive to make things better, never cheaper. Every performance feature and construction detail we design into our garments is vetted by asking: "How will it function in the field?" and "Will it make this garment work better?"
---
THE FABRIC:
Made from a combination of our All-Terrain 7 oz. and 10 oz. canvases, where the use of 10 oz offers major support to the "high wear areas" and it is both water and abrasion resistant. The 7 oz. canvas is both durable and strong, while offering a softer feel for fit and the ability to provide incredible detail where movement, zippered fly and pocketing are concerned.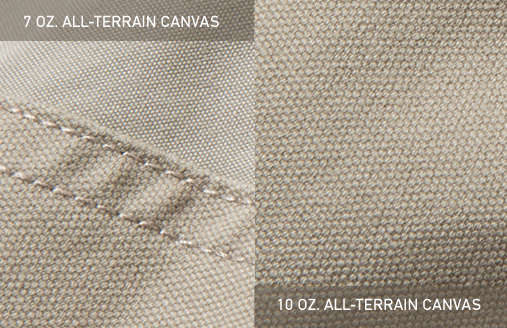 ---
COMFORT FEATURES:
Waist Sizes: The new All-Terrain Pants come in waist sizes 32 - 42, and feature 2-button waistline tabs on each hip that allow easy adjustments for a perfect fit.
Oversized Crotch Gusset: A unique 4-inch, seamless panel tapers gradually down the inside of each leg to just above each knee to eliminate binding and crotch seam irritation when climbing and hiking in the field.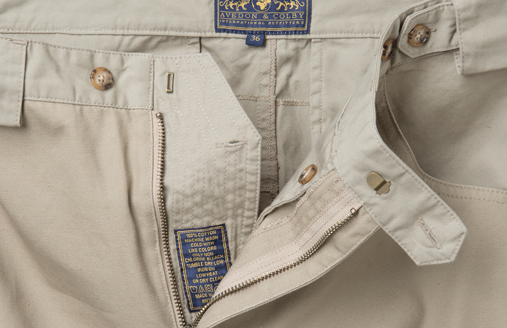 Soft Waistband & French Fly: The pants feature a soft, comfortable waistband, full-length (7-inch) heavy-duty YKK brass zipper with hook and loop waist closure and a full French fly to remove stress on the zipper.
Contoured Fabric Panels: Every panel in the seat, hips and legs is strategically contoured to allow maximum movement and comfort while maintaining a trim, stylish profile.
---
FUNCTIONAL DETAILS:
Oversized Belt Loops: Eight 2-inch belt loops include three "tunnel loops" at the side and center-back to help support belt-mounted camera cases, holsters or knives.
Rear Pocket Support Panel: 2 1/2" support panel runs behind the rear hip pocket bags from side seam to center making it a 2-ply fabric that the hip pocket welts sew into – a trick from military construction to insure the fact that hip pockets can "stand the heat!"
Side Cargo Pockets: Two, highly functional side cargo pockets feature our Signature Tuck-In Flaps which are secured with two hidden buttons and can be tucked in with no puckering of the flap material. Rear-facing pleats permit full cargo expansion without catching on thorns and brush. No-rust thread grommets provide drainage. Inner, hidden security pockets close with heavy-duty brass YKK zippers, and open top, outer patch pockets accommodate a cell phone or compact GPS unit.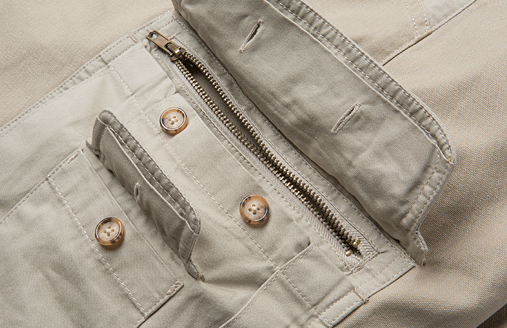 Heavy-Duty Pocket Construction: The interior "bags" of every pocket are constructed from the same fabric as the pants for extreme durability.
Extra Large Hip Pockets: Two 6-inch X 6-inch rear hip pockets close with heavy-duty brass YKK zippers and are trimmed with the 10 oz canvas at entry to protect edges over time.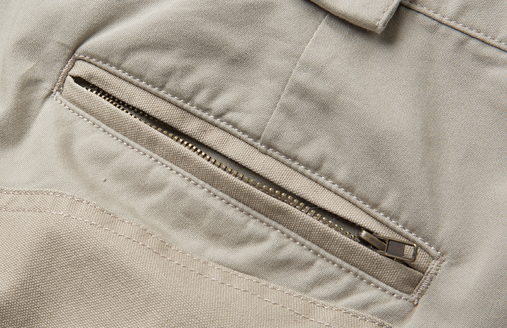 Easy-Access Front Pockets: Both front pockets are 10-inches deep with an easy-access top opening.
Articulated Knee: The design at the knees mirror the shape of our legs allowing for a more comfortable fit and greater freedom of movement, allowing you to be able to bend the leg without having the bottom of the trousers move.
Snake Boot Tab: Each lower leg features a two-position button tab for easy adjustment to assist with fitting into boots.