British Army Officer's Military Shorts
We've faithfully re-created what is undoubtedly the most famous shorts of all time: The classic British Army Officer's Shorts originally designed for British officers serving in India at the end of the 19th century. Sewn from hard-wearing khaki military drill fabric (khaki is an Indian word for "sand"), and cut long and wide for a loose fit to optimize air circulation, these distinctively roomy shorts provided relief from the stifling humidity and heat for untold thousands of soldiers, professional hunters, and tea planters all across India and British East Africa for the next 50 years. During WW II, they were the uniform of choice among the Desert Rats of Montgomery's 8th Army while chasing Rommel's Afrika Korps across North Africa. Production was discontinued in 1949, and surplus shorts that reached the civilian market in the early 50's quickly became collectors' items.
---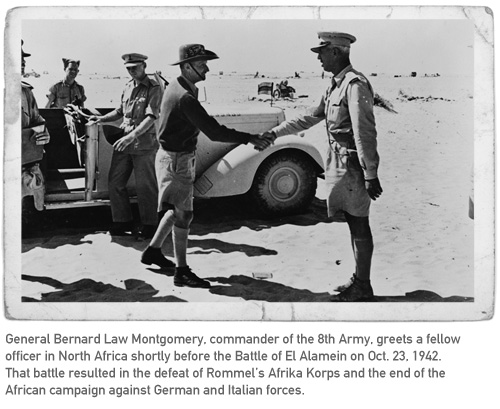 ---
Our Design:
Our British Army Officer's Shorts are authentic replicas of two original WW II KD (Khaki Drill) shorts from our personal collection. Exactly like the original, they feature a comfortable mid-rise waist with 2-inch belt loops, a concealed four-button fly, double front pleats, two button-flap rear welt pockets and extra-deep on-seam side pockets. They're sewn from rugged 9 oz. khaki military drill with a 9-inch inseam and a 29-inch circumference leg opening. They're also available with a "modern" zippered fly.
Designed to be laundered, they come unwashed for those who prefer to dry clean them from the start. They're rugged enough to wear on safari or extended treks, yet stylish enough to wear at tropical resorts or the local yacht club. But, whether you wear these magnificently comfortable shorts baggy and loose – or starched and pressed with a knife-edge crease, our newly re-created British Army Officer Shorts will always make a tasteful style statement, especially when the temperature pushes triple digits.
---
British Army Officer's Shorts Feature:
Sewn from 9 oz. military drill fabric
Mid-rise waist
Concealed four-button fly
Double front pleats
Two button-flap rear welt pockets
Extra-deep on-seam side pockets.
9-inch inseam
29-inch circumference leg opening
Designed to be laundered or dry cleaned
Your choice: original button fly or "modern" zippered fly
---